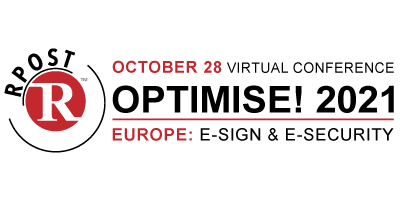 Beveilig uw e-mails en laat documenten digitaal ondertekenen
We hebben een interessant programma samengesteld en twee partners uitgenodigd die vanuit hun standpunt zullen uitleggen hoe de slimme tools RMail en RSign de efficiëntie, kwaliteit en het succes van uw organisatie kunnen verhogen.
Goedkeuringen, offertes, verkoopdocumenten, arbeidsovereenkomsten, vertrouwelijke informatie, klantencommunicatie, bestandsuitwisseling en gegevensbescherming:Optimise2021! Europe
Voor iedereen die wil zien hoe RMail en RSign met hun unieke functies aan uw eisen kunnen voldoen.
Nadat u zich heeft ingeschreven, zullen wij u informeren over updates van de agenda.
With Moderator Leo de Rooij
allemaal direct vanuit Outlook. – Geen portals of downloads!
Live demonstratie om de unieke mogelijkheden van RMail in actie te zien.