RMail & RSign. Top Choice by The Florida Bar
The most affordable, feature-rich eSign service in the market.
Simplifies email encryption for sender and recipient; returns proof of privacy compliance.
Why Registered Email™ Proof?
The global standard for court-accepted legal and certified timestamped proof of email delivery and content.
Members receive special discounts plus expert customer onboarding, personalized training, and a friendly customer success advocate.
Recommended Use
RMail® simple to use email encryption for client communications and privacy compliance. Registered Email™ certified email proof of delivery for risk mitigation around who said what to whom and when by email, proof of timestamped delivery of litigation, contract, intellectual property, and client notices. RSign® for electronic signatures with client engagement letters, settlements, litigation verifications and declarations, contracts and forms.
Jonathon Israel, Director of Legal Fuel, the law practice management center of The Florida Bar highlighted his top four new technologies for lawyers as ones that solve long-held business challenges:
Security Challenge. How to sensitize staff to evolving email risks without having to train them (and train them again)?
Answer: RMail's AI-infused "In-the-Moment" automated security training with the new RMail Recommends™ feature.
Most Elusive and Overlooked Privacy Issue. How to prevent recipients from replying to your encrypted email, exposing sensitive content in the email thread — without complicating things for recipients)? (You know, when they reply unencrypted after you make the effort to encrypt, with a big "Thanks! Got it! 😊".)
Answer: The new RMail Redact Reply™ feature.
Confidently Know Your Recipient Did Not Forward Sensitive Parts of Your Email. How to make sensitive parts of your email disappear from inside the recipient's email inbox before they click "forward"?
Answer: The new RMail Disappearing Ink™ feature.
Don't Reply-All. How to (finally) remove the blind copy recipient reply-all risk? You probably don't particularly want all the recipients to know who you are blind copying. How to make it visible for BCC recipients to see who was copied on the email but remove potentially embarrassing moments when a BCC recipient deliberately or inadvertently replies-all.
Answer: The new RMail Double Blind CC™ feature.
(Watch the Room 2 track with Jonathan Israel's session recorded, and as a bonus, receive 1 CLE credit from The Florida Bar – click here. We'll send the credit info to you automatically. The Jonathan Israel segment starts at minute 30).
Member Advocate
Like many of The Florida Bar members, lawyers have been enjoying RMail and RSign services for two decades (read customer story). The Florida Bar is one of the largest lawyer licensing bodies and mandated bar organizations in the world.
Watch full video of Jonathan Israel discuss OPTIMIZE!™ 2021.
Two things RMail does: you're protecting the firm and the clients but then you're also training end users at the same time, which is great.

Jonathan Israel
Director, LegalFuel: The Practice Resource Center of The Florida Bar
I think Redacted Reply is a great feature and, when you think about transactional type work and maybe a real estate closing where, for example, you want to send the instructions for wire transfers…Free email services, whether it's Gmail or something like that, don't really have any security built in.

I always thought that the Registered Email™ service was such a great feature because you went beyond the read receipts and are able to really drill down and prove that a particular person received and opened the email… So having that where they not just opened and read the email, but actually clicked on that button and read that specific part of the email, is great.

You don't have to leave Outlook to be able to send documents off for e-signature…it is a huge time-saver.

With RMail, you can eliminate some of the thought process from the user, where they may overlook something and send an email that should have been encrypted.
The RMail and RSign feedback has been great. Everyone wants to use these products. The senior-level attorneys are always going to use RPost if they send anything out…The fact that RMail is going to be integrated with cleanDocs is going to encourage more use.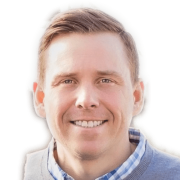 Brandon Haines
CTO, Dickinson Law
Main Benefit
Florida Bar members report the main benefits of RMail and RSign services as assurance of client privacy, peace-of-mind with legally valid and court-accepted proof of email delivery, simple e-signatures, and cost savings with reduced paper, courier, administrative time, and postage.