Why Wet Signatures Are the Past and eSignatures Are the Future
Wet signatures have been the norm for centuries. However, as the world goes digital, relying solely on "wet signatures" can cost businesses delays and increased costs. If you're spending too much time waiting for completed contracts or signed documents, it's time to switch to electronic signatures or eSignatures.
The eSignatures market is growing exponentially driven by rising customer expectations for digital interaction and increased awareness of legal acceptance of eSignatures. Research projects the global digital signature market size to grow to $14.1 billion by 2026, from $2.8 billion in 2020.
Many reasons are behind this overwhelming market annual growth of over 30%. Arguably, one of the main factors is digital natives entering the market, which has raised the bar for baseline expectations when it comes to user digital experiences. In 2022, Millennials and Gen Z make up around 50% of the market consumer landscape, and it is hard to imagine that the generations that grew up on Facebook, Instagram, Tik Tok, Alexa, and Siri will find it acceptable to print documents (or even own a printer), sign dozens of pages, scan them one by one, zip them and send via email.
As once niche technologies increasingly become mainstream, more industries are in turn digitizing their processes to increase productivity and cater to their staff and clients' expectations. Not only can consumers now open bank accounts, sign loan agreements, or take out insurance with a few simple clicks, but government agencies have also provided more e-signature support for important documents. Needless to say, the outbreak of COVID-19 has only accelerated this already growing trend and abruptly brought the future of work to the present.
What Are Wet Signatures?
For the uninitiated, let's talk about what exactly "wet signatures" are first. Every time you put pen to paper to sign a document, you're using a wet signature. The term comes from the phrase "waiting for the ink" to dry on the paper. That's how signatures were taken centuries earlier.
But they don't necessarily have to be a signed name. Wet signatures can include a person's initials, an "X" mark, a stamped symbol, an inked thumbprint, or some other physical form of signature. Some cultures would also use symbols or seals to "seal" the deals!
Why Are Wet Signatures Losing Their Popularity?
There are several reasons why businesses are switching from wet signatures to eSignatures.
Long lead times: Obtaining wet signatures can take days or weeks because of all the printing, mailing, scanning, and posting of documents.
Higher costs: There are several direct costs involved in collecting signatures, including paper, ink, and postage.
Increased risks: Failing to secure paper documents can lead to loss or misuse of confidential information.
Eco-friendly: Being digital, they are more eco-friendly compared to wet signatures.
Security: Paper documents can get lost; eSignatures with encryption capabilities are more secure.
Centralized documents: eSignatures considerably reduce the time spent in retrieving a document by offering integrations with different platforms, making it a simple click and search.
How to Adopt Electronic Signatures
Several businesses continue to use wet signatures, partly out of skepticism about the whole process of creating signatures online. However, it couldn't be more straightforward with RSign, a global eSignature solution from RPost. It offers not just advanced security and encryption capabilities but also compliance with eSignature and data privacy regulations.
You can send a document for eSignature to one person or multiple recipients, track in real-time which documents have been opened and signed, and receive an error-free, completed, e-signed form or document to your email without having to follow up with any of the recipients.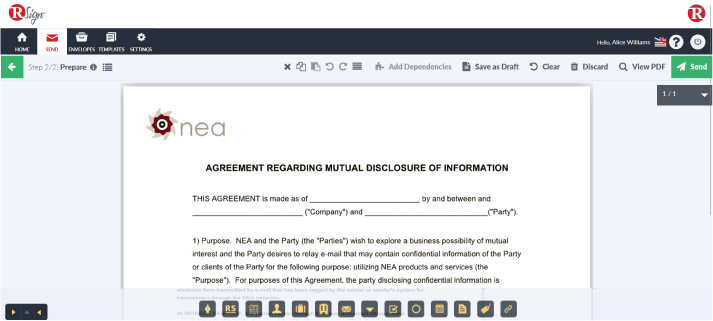 Here's how you can use RSign to digitize your forms and documents and create electronic signatures workflows quickly and easily.
Create your free account and upload your existing contract/form in the RSign interface.

Drag-and-drop signatures, names, dates, and other input fields anywhere to create a claim or contract.

Set document expiration dates, custom email and SMS reminders, multi-factor authentication mechanisms, and document access codes.
Send your document for signing.
RSign has additional e-sign features that make your contract or form look cool and the process of creating electronic signatures online more robust.
Configure send options to digitize your document workflow - set up a signing sequence, specify for single or multi-party signing, set message encryption and reminder notifications, and more.
Save an entire workflow - signer roles, routing rules, notifications, privacy level, and more to use and reuse as a template to avoid starting over.
Share saved templates with the entire team or user community to save time, standardize your workflows, and boost digital collaboration.
Align all input fields so they are visually appealing to the signer.
Re-size and replicate field rules.
Create auto-reminders and auto-notifications for when the e-sign process progresses (or does not) to the next signers.
Send documents for eSignature right from your desktop, the Microsoft Office suite, Microsoft Outlook, Salesforce, and industry-specific platforms with dozens of plug and play integrations.
Save time by sending documents for e-signing in bulk and speeding up business with digital SMART Forms that you can embed anywhere for signers to fill out and sign on demand.
Create web links and embed documents into websites and multi-signer templates - all in a self-service mode, securely.
It's also easy for your recipients to sign documents online. Click on the e-signing link that they receive in their email account and follow RSign's guided signing instructions. You can even brand your eSignature emails and web interfaces for a cohesive branded experience, or embed your forms anywhere with RForms for self-service, on-demand data collection.
Once you configure your contract and send it for e-signing, your recipients will get a link in their email. They just need to click on it and follow RSign's guided instructions without downloading or installing anything.
Audit Trails and Compliance
RSign digital signatures guarantee compliance with GDPR, HIPAA, eIDAS, and ESIGN acts and provide users with many privacy options to protect sensitive data. Plus, all parties receive Legal Proof® records and forensic audit trail of every e-sign and UETA-compliant transaction for an atomic timestamp of signer IP addresses, date and time of delivery, and exact message content.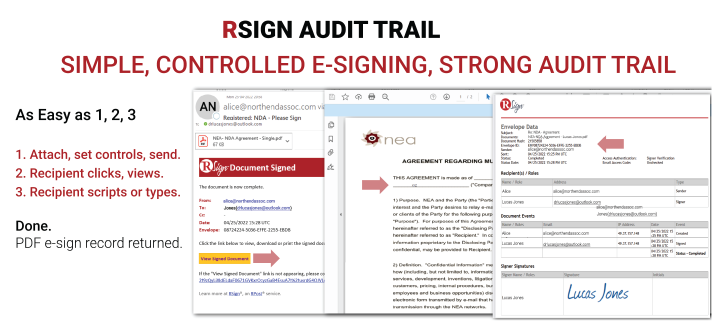 Should You Continue to Use Wet Signatures?
The verdict is clear. eSignatures have obvious time, cost, security, and compliance advantages over wet signatures. As the world transforms digitally at a faster pace, wet signatures are inevitably becoming obsolete.
RSign helps your organization stay ahead of your competition to create free electronic signatures with its feature-rich elements, ease of use, and affordability at scale. And it's free to use. Try it!