Secure File Sharing
RMail includes a secure File Share service which provides options for senders to securely share files with a link and optional passwords.
Senders can easily attach, send, and track opening and download of documents with a cumulative attachment size of up to 1GB of files per send, sent right from most email programs, or by using the RMail API.
The RMail File Share service is highly configurable with self-purging options in a one-time online storage box that eliminates the risk of download recipients being able to see the sender's cloud storage file structure.
RMail File Share senders can easily attach and track up to 1GB of files from Outlook and send them securely to any recipient. RMail File Share includes automatic encryption options and returns proof of delivery with timestamped download records.
Unlike other file sharing services, the RMail File Share feature sets up a one-time-box that is not associated with the sender's file directory, ensuring privacy of the sender's file system and directory names; and auto-purges after a configurable set time period to minimize risk of future unauthorized access to shared content. Auto-purge simplifies IT and security staff management of file sharing security.
RMail File Share service generates Registered Receipt™ e-delivery proof records; receipts provide names of files transmitted and forensics related to transmission timestamps, delivery success/failure, opening, and download.
RMail File Share service uploads documents asynchronously so users may move on to other tasks while documents are in process of uploading.
RMail File Share has fully supported API for sending from within 3rd party applications.
Example of the recipient download portal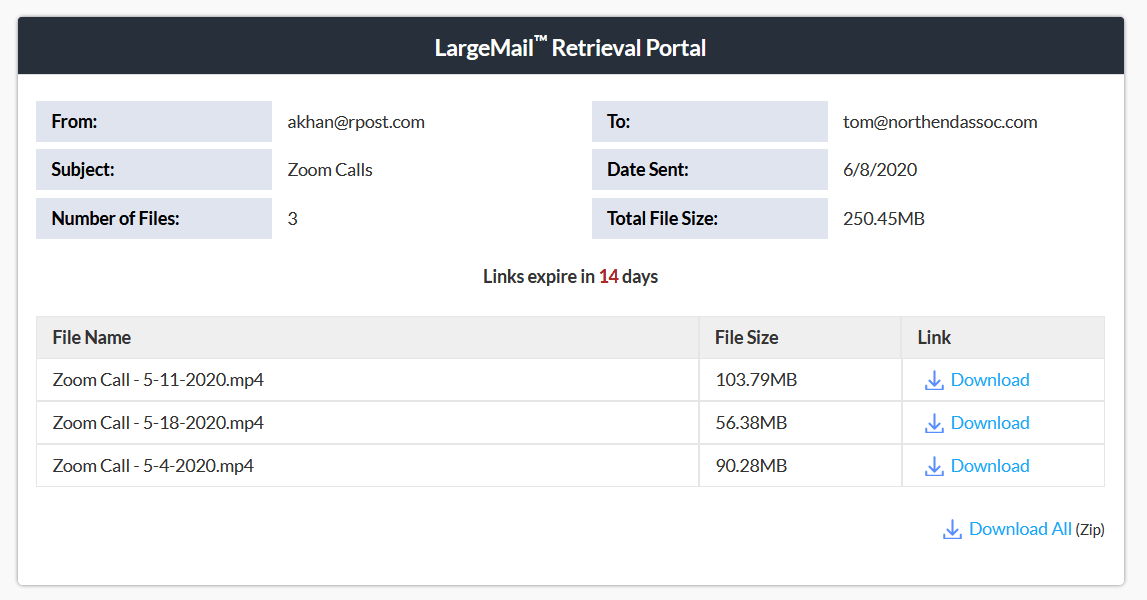 Contact an RMail integration specialist to learn more about how you can add RMail or RSign to your workflow.